TOEICPart1多益第一部分聽力圖片題80
PART 1

 Direction:
 問題指示等全部以英文標示。
Directions : For each question in this part, you will hear four statements about a picture in your test book.
When you hear the statements, you must select the one statement that best describes what you see in the picture.
Then find the number of the question on your answer sheet and mark your answer.
The statements will not be printed in your test book and will be spoken only one time.
訳:這個部分的題目是每一張照片會有4段內容,請聽完這4段內容後選出最貼切最適合此照片的說明。
答案只有一個,請在解答紙上找出來並勾選。
內容並沒有寫在問題紙上,而且只會念ㄧ次,請注意。
Part I: Photographs
In each question, you will look at a photograph and then listen to 4 sentences.
Choose the sentence that best describes the photograph. There are 17 questions in this test
 Question:
初次請看照片。
Picture (照片):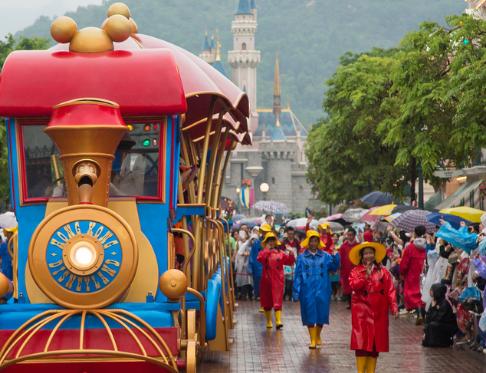 然後聽到的聲音之後,請選擇正確的答案從A~D。
A
B
C
D
※請習慣的聲音速度。
Script(脚本):
(A)Only adults are allowed on the amusement park ride.
(B)The amusement park is open, but no rides are operating.
(C)The sidewalk in front of the ride is lined with umbrellas.
(D)The rain is keeping most of the people away from the park.
Answer(答案):C
Question之説明
A.只大人可以坐車輛。
B.遊樂園在開園中但沒有車輛在運行中。
C.在走人行横道、拿著雨傘的人排隊。
D:雨驅逐人出去。
答案是C